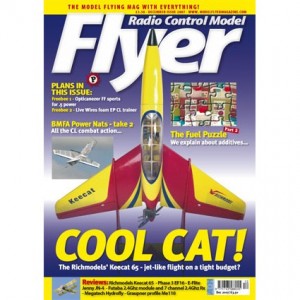 TECHNOLOGY – The Fuel Puzzle part 2
Additives and power enhancers…
RALLY RETRO – BMFA Power Nats, part 2
Control Line combat action from Barkston.
SLOPE SLANT- The View from the Hill
More slope side shenanigans…
FREEBEE 1 – Opticaneazer
Another Ebenezer type to inspire you for the 2008 event!
PLAN FEATURE – WILGA part 2
We complete our recommendations for correcting our popular
Wilga plan…
FREEBEE 2 – Live Wires
An electric powered control line trainer.
RALLY RETRO – Aircombat Champs
Adrenalin pumping action with 1/12 scale RC fighters.
KEECAT 65
A smooth flying IC jet-like ARTF from Richmodels.
EF-16
Phase 3's foam EDF Fighting Falcon.
CURTISS JN-4 JENNY
E-Flite's little ARTf foamie slow flyer.
FUTABA TM-7
2.4Ghz Module for upper end Futaba radios.
HYDROFLY
Is it a plane, is it a boat, is it a toy? From Megatech.
PROFILE Me110
Graupner's flat pack economy EP foamie fighter/bomber
WORKSHOP – Make the most of your mixes Part 5
Getting into advanced mixes.
WORKSHOP – Repairing a damaged ARTF part 4.
Shipping & Delivery Charges On Back Issues
Free postage to all UK destinations
Shipping to European destinations is charged at £1.50 per issue
Shipping to Worldwide destinations outside Europe is charged at £2.70 per issue