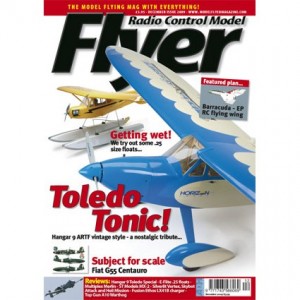 BMFA POWER NATS – part 2Action from the CL circles…
AEROBATICS FOR ALL – part 6More manoeuvres for you to practice…
PLAN FEATURE – BarracudaBuild a EP flying wing with attitude!
SCRATCHBUILDING – Build a bigger plane!Scaling up plans and related factors…
SLOPE SLANTThe view from the hill More slope soaring gossip.
COMPETITIONWin a trio of Silverlit flying toys!
RALLY RETRO – RC Model Flyer Scale Trophy 2009A good turn out at North Berks RMAS.
SCRATCHBUILD FROM PLANSusing an existing design to produce your own model – the Fiat G55.
TOLEDO SPECIALNew Vintage type from Hangar 9.
MERLINMultiplex's 'little magician' in EP mode.
MX2Foam EP aerobatic 3D machine from ST Models.
TOYS WITH A MISSIONA trio of the latest RC micro wonders!
ETHOS LX41B ProFusion's versatile dual spource charger/balancer.
A10 WARTHOGExciting scale EDF foamie from Top Gun.
WORKSHOP 1 – Put it on floats!We look at a set of .25 sized ARTF floats – and take to the water!
WORKSHOP 2 – Build JigA simple solution to banana fuselages!
SUBJECT FOR SCALE – Fiat G55To accompany our scratchbuilt series.
Shipping & Delivery Charges On Back Issues
Free postage to all UK destinations
Shipping to European destinations is charged at £1.50 per issue
Shipping to Worldwide destinations outside Europe is charged at £2.70 per issue