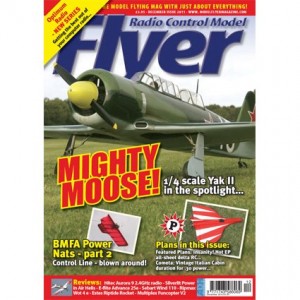 BMFA POWER NATS! Part 2
All the control line action…
PLAN FEATURE 1 – Cometa
A blast from the past with this vintage beauty…
RALLY RETRO – RC Aircombat Nats!
1/12 scale dogfighting mayhem …
PLAN FEATURE 2 – Insanity!
All-sheet flat plate delta EP with ooomph…
RALLY RETRO – World FF Champs 2011
The very best compete in Argentina…
OPTIMUM RADIO – New Series!
Get the best out of your computer radio – part 1
MODEL MAGIC – Mighty Moose
A splendid 1/4 scale Yak 11 under the spotlight.
RALLY RETRO – Shuttleworth 2011
A review of this years meetings at this magic venue…
HITEC AURORA 9 2.4GHz
A close look at Hitec's flagship radio.
SILVERLIT MICRO HELIS
5 of the latest micro machines
E-FLITE ADVANCE 25e
Move on to low wing flying with this ARTF aerobat.
SEBART WIND 110
A thumbnail review of this EP high performance machine.
RIPMAX WOT 4e II
A foamie EP version of the Chris Foss classic.
ESTES RIPTIDE
We build and launch one of the fabulous Estes range of rockets!
MULTIPLEX FUNCOPTER V2
The latest upgrade version is even better!
ROCKETRY – Reach for the Stars – part 8
Scale… achieving the sublime.
Shipping & Delivery Charges On Back Issues
Free postage to all UK destinations
Shipping to European destinations is charged at £1.50 per issue
Shipping to Worldwide destinations outside Europe is charged at £2.70 per issue