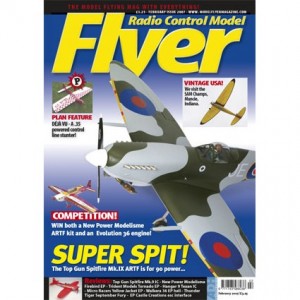 Rally Retro – Sam Champs, USA – pt.1Vintage action from Muncie, Indiana, 2006.
Competition! Win an ARTF Extra300 and .36 IC motor combo!
Plan Feature РD̩ja Vu A nostalgicclassic style CL stunter for a .35 IC motor.
Slope SlantMore gossip from the Ivinghoe Hill.
Rally RetroWOODVALE 2006!
Ebenezers 2007Get ready for the Mass Launch event!
Spitfire Mk.IXARTF Classic from Top Gun.
Red Hot Bird!Foam EP flier from New Power Modellisme.
Eurofighter!An indoor RC foam flier from Trident Models.
Southern Belle!The Hangar 9 Texan IC goes airborne.
Walkera 36A new fixed pitch elctric RC heli.
September Fury EPThunder Tigers micro RC racer RTF!
Workshop – Programmable ESC'sCastle Creations get a close look.
Workshop – Indoor Micro RCYellow Jacket.
Workshop – Making tinplate CL fuel tanks.
Shipping & Delivery Charges On Back Issues
Free postage to all UK destinations
Shipping to European destinations is charged at £1.50 per issue
Shipping to Worldwide destinations outside Europe is charged at £2.70 per issue