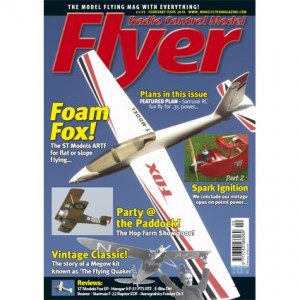 SLOPE SLANTMore views from the hill…
RALLY RETRO – The Hop Farm ShowAction from the Sothern Model Airshow '09.
HALCYON DAYS – Spark Ignition pt.2An extra helping of nostalgia.
PLAN FEATURE – Samurai!
SCRATCHBUILD – Miles Messenger – part 1A classic plan brought up to date by Peter Shaw.
VINTAGE FEATURE – A Classic design!A Megow Flying Quaker story…
RALLY RETRO – Old Warden 2009A short roundup of the 2009 season meetings at this hallowed ground.
FOX EPST Models 2m foam electric sailplane.
P-51D MUSTANG PTSHangar 9's scale trainer makes it easier to get into flying RC.
DHC BEAVERE-flites EP version of this timeless classic.
F-22 EDFA potent foam EDF from Starmax…
JETigerA foam RTF EDF from Art Tech.
FOKKER Dr.1A scale triplane from Aerographics fitted with micro radio.
WORKSHOP 1 – Lathe work for modellers – part 2A short series of modellers lathe projects.
RALLY RETRO – FF @ the Nat's 09The wind didn't deter some scale diehards!
WORKSHOP 2 – P-82 Twin Mustang – part 1Take 2 old and battered ARTF P-51D kits…
SUBJECT FOR SCALE – Fokker Dr.1 triplaneExciting schemes to tie in with our review of theAerographics kit Dr.1.
Shipping & Delivery Charges On Back Issues
Free postage to all UK destinations
Shipping to European destinations is charged at £1.50 per issue
Shipping to Worldwide destinations outside Europe is charged at £2.70 per issue