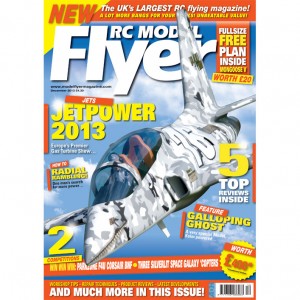 December 2013
FEATURES
18 A SPECIAL MODEL
Galloping Ghost. Kolm Powered…
48 COMPETITION 1
Win a Parkzone F4U Corsair BNF
50 CLUBMAN
Peter Miller on Sport Flying…
59 COMPETITION 2
Win THREE Silverlit micro 'copters…
70 SCALE FEATURE
Type History: Yak 3 and up close…
82 SCALE GLIDING
Chris Williams has silent wings.
86 VINTAGE CORNER
Another of the late Alex Imrie's Aeromodeller Columns
90 DESIGN
Bv141, The Glass Greenhouse pt.4
106 HELI ROUNDUP
Neil Mead's rotary wing pot-pourri. Latest developments from the world of rotary wing machines…
118 THE BLACK ART
Graham Iredale on all things EP
122 OUTLINE
Dave Bishop anecdotes Starting the Plumpton Family Show…
127 YOUR CALL
Readers Letters
136 AROUND THE CLUBS
Featured RC clubs up and down the country
146 DEBRIEF
A practical jetpack – at last? And another P-51D reno racer!
HOW TO…
38 SKIP THE LIGHT
Micro Electrics with Peter Rake
96 RADIAL RAMBLINGS
Tim Angell modifies a radial engine for better power…
100 3D FLIGHT SCHOOL
Flat Spin with Nathan Attridge
102 PYLON RACING
What's Electric Pylon all about?
134 2-STROKE REFURB
Bringing a secondhand glow up to scratch…
PLANS…
32 REVISITED PLAN
Brian Brassey's Yak 3 for .50 power.
76 PULL OUT PLAN
Mongoose V – EP Sports Racer…
REVIEWS
26 MULTIPLEX
Tucan
44 PARKZONE
F4U Corsair BNF
56 SILVERLIT
Power in Air Trio…
114 FLAIR MODELS
Puppeteer – part 3
124 DURAFLY
Retro Range Junior
SHOW REPORTS
60 JETPOWER 2013
Everything about Gas Turbines!
66 BMFA NATIONALS
Electric power comps…
110 INDOOR FLYING
Fantastic Froggy Flying Fun!
REGULARS
4 NEWS
What's going on in the
RC model world!
12 LANDING GEAR
Products new to you?
138 DIARY DATES
What's on, where and when.
139 CONTACT US
And what's coming next month