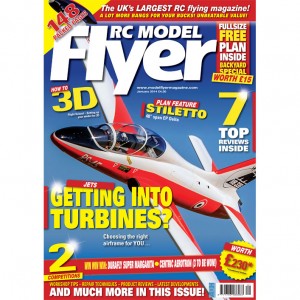 January 2014
REGULARS
6 NEWS
What's going on in the
RC model world!
12 LANDING GEAR
Products new to you?
138 DIARY DATES
What's on, where and when.
139 CONTACT US
And what's coming next month
REVIEWS
48 REVELL Huey micro heli
56 DURAFLY Super Margarita all-wood
EP sports trainer
68 CENTRIC Aerotron EP mini fl ying man
88 HANGAR 9 P-51 D Mustang 40
96 HOBBYKO Sonic Boom
114 HORIZON HOBBY Four Bladed Bull
126 MAX-THRUST Apprentice Trainer
SHOW REPORTS
26 INDOOR SCALE TROPHY
RC Model Flyer Trophy @
RAF Shawbury
106 LMA @ GAYDON
Latest BIG models…
124 WORLD RECORD
Speed record for turbine powered
fi xed wing
HOW TO…
76 KK SCORPION
Refurbishing an old model
80 PYLON RACING
What's Electric Pylon all about?
84 3D FLIGHT SCHOOL
Setting Up with Nathan Attridge
130 USE GLUES
What's to use – and where…
PLANS…
30 REVISITED PLAN
Peter Rake's EP 72" span Morane
Saulnier Type L
42 SKIP THE LIGHT
Peter Rake design Farman Sports EP
Scale for micro RC
62 FEATURED PLAN
Colin Usher's 'Stiletto' – EP Sports Delta
72 PULL OUT PLAN
'Backyard Special' – a simple to build
.75cc IC Sports
FEATURES
18 JET SCENE
Ali Machincy on gas turbines – part 3
24 CHRISTMAS QUIZ
The usual aviation brain teaser!
36 SCALE FEATURE
3-view and type history –
Morane Saulnier Type L
52 CLUBMAN
Peter Miller on Sport Flying…
61 COMPETITION 1
Win a Durafl y Super Margarita EP
Cabin Sports ARTF
71 COMPETITION 2
THREE chances to win a Centric Aerotron!
100 OUTLINE
Dave Bishop anecdotes
102 THE BLACK ART
Graham Iredale on all things EP
110 VINTAGE CORNER
Another of the late Alex Imrie's
Aeromodeller Columns
118 SLOPE SLANT
The view from the hill with Peter Beadle
122 ARMCHAIR PILOT
Some reviews of books that might
interest you…
136 AROUND THE CLUBS
Featured RC clubs up and down the country
140 YOUR CALL
Readers Letters
146 DEBRIEF
Dragon Dream! Airships with a future?