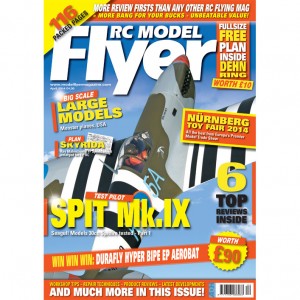 April 2014
REGULARS
6 NEWS
What's going on in the
RC model world!
104 DIARY DATES
What's on, where and when.
107 CONTACT US
And what's coming next month
FEATURES
16 JET SCENE
Ali Machincy on what airframe to get started…
32 CLUBMAN
More tales from Peter Miller.
44 MIGHTY MANX MONARCH
Completing the Boddo/Swailes project…
56 COMPETITION
Win a Durafl y Hyper Bipe!
78 VINTAGE CORNER
More from Alex Imrie's Aeromodeller Archive…
88 JET JOCKEY
Repairing composite turbine powered models
130 DEBRIEF
Technology today, modelling tomorrow?
REVIEWS
28 SEAGULL Spitfi re 30cc – part 1
52 DURAFLY
Hyper Bipe – a wild 3D EP machine…
58 PARKZONE
Mosquito – WW1 iconic twin fi ghter/bomber
74 XTREME FLIGHT
Xtreme MSX – ultimate EP 3D machine?
82 YY INTERNATIONAL
Dornier 335 Arrow – part 1
96 E-FLITE Blade 180 QX HD
AS3X equipped quad with camera
SHOW REPORTS
10 NUREMBERG
Europe's largest Toy Fair.
18 MONSTER PLANES, USA
Ali Machinchy reports…
HOW TO…
62 SCALE SPEED
Thoughts on the unattainable…
70 SKIP THE LIGHT
Micro RC electrics.
92 ES SECTIONS
Draw your own wing sections.
100 THE BLACK ART
Back to basics with Graham Iredale.
PLANS…
36 REVISITED PLAN
Fokker DVII from Gary Sutherland.
48 FEATURED PLAN
Skyrida – an unusual EP sports machine…
66 PULL-OUT PLAN
Dehn Ring – simple, unorthodox Depron , but scale!