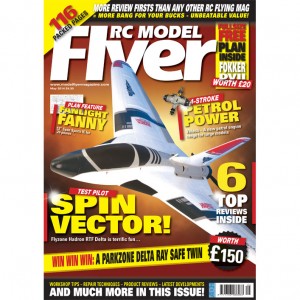 May 2014
REGULARS
6 NEWS
What's going on in the
RC model world!
104 DIARY DATES
What's on, where and when.
107 CONTACT US
And what's coming next month
REVIEWS
18 HOBBYZONE Delta Ray SAFE trainer
40 VALACH
120 2B 4-stroke petrol engine
for large models…
50 DYNAM Smart Trainer
62 FLYZONE
Hadron Vector Thrust Delta
82 SEAGULL Spitfire 30cc – part 2
92 CASTLE CREATIONS
Edge HV 160 speed controller
SHOW REPORTS
72 FRENCH INDOOR MEETING
Gallic Galivanting…
HOW TO…
46 SKIP THE LIGHT
Micro RC electrics.
94 BUILDS A PORTABLE
POWER STATION
EF charging
96 BUILDING FROM CUT PART
WOOD SETS
Part 1 New series
100THE BLACK ART
Back to basics with Graham Iredale
PLANS…
30 REVISITED PLAN
DH Hornet for twin .50 power.
56 FEATURED PLAN
Fanlight Fanny – a sports machine for .20 power
66 PULL-OUT PLAN
Fokker DVII – Boddo's 1/8 scale plan for EP!
FEATURES
21 COMPETITION
Win a Hobbyzone Delta Ray!
22 JET JOCKEY 8
Ian Titchell explains jet pipes…
26 CLUBMAN
More tales from Peter Miller.
78 SLOPE SLANT
Peter Beadle from the top of
Ivinghoe Beacon…
86 VINTAGE CORNER
More from Alex Imrie's Aeromodeller Archive…
91 ARMCHAIR PILOT
Book reviews for aeromodellers
130 DEBRIEF
Technology today, modelling tomorrow?