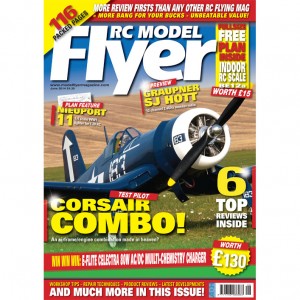 June 2014
REGULARS
6 NEWS
What's going on in the RC
model world!
10 LANDING GEAR
Products new to you?
104 DIARY DATES
What's on, where and when.
107 CONTACT US
And what's coming next month
REVIEWS
18 HANGAR 9
Corsair Combo – 60cc fighter with 77cc
radial glow engine
50 LRP
P-39 Aircobra EP Speedbird
74 HOBBYKING
Zlin 42 for .52 IC power
86 E-FLITE
Celectra 80W Multi Chemistry charger
96 DYNAM
EP Albatros DVa
SHOW REPORTS
66 ELVINGTON
A preview of the 2014 LMA Shows
HOW TO…
54 SKIP THE LIGHT
Micro RC electrics.
82 BUILDING FROM
CUT PART WOOD SETS
Part 2
90 PRINT LOZENGE COVERING
Using your PC
100 THE BLACK ART
Back to basics with Graham Iredale.
PLANS…
34 REVISITED PLAN
A 1/4 scale Nieuport 11 for 120 power
58 PULL-OUT PLAN
BE12a Micro EP RC scale for Indoor flying
FEATURES
24 CLUBMAN
More tales from Peter Miller.
30 PRODUCT PREVIEW
Graupner SJ mz24 Hott 2.4GHz radio
38 SCALE 3-VIEWS
Nieuport 11
40 JET JOCKEY
Choosing your SECOND jet airframe
46 THE LOZENGE CONUNDRUM
WW1 German camouflage discussed
62 SCALE 3-VIEWS
BE12a
64 OUTLINE
Amusing nostalgic anecdotes from Dave
Bishop
70 VINTAGE CORNER
More from Alex Imrie's Aeromodeller archive
78 SLOPE SCALE
Chris Williams looks at the latest sailplanes on
the slope
89 COMPETITION
Win an E-flite Celectra 80W Multi Chemical
charger!
114 DEBRIEF
Technology today, modelling tomorrow?