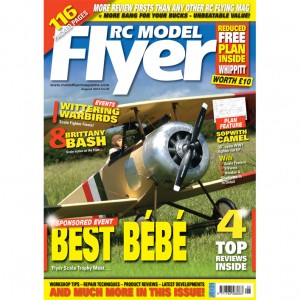 August 2014
FEATURES
SCALE FEATURE Sopwith Camel
SCALE 3-VIEWS Sopwith Camel
FLYING COLURS Sopwith Camel
CLUBMAN More tales from Peter Miller
OUTLINE Amusing nostalgic anecdotes from Dave Bishop
DESIGN A Step Too Far? – Take 2
VINTAGE CORNER More from Alex Imrie's Aeromodeller archive
SCALE SOARING Chris Williams from the slope
IN DETAIL 1 The IWM Hendon Camel
IN DETAIL 2 The Shuttleworth Camel
PLANS
REVISITED PLAN 48" span Sopwith Camel for EP.
PULL OUT PLAN Whippitt Autogyro EP (NOTE: Plan is 70% full-size)
REVIEWS
GRAUPNER MZ-24 12 channel 2.4GHZ radio – part 1
E-FLITE Carbon Z Yak 54 AS3X
HOBBY FLIGHT Enamel Warbird Paints
HOBBYKING Go Discovery FPV
SHOW REPORTS
FENCH CONNECTION May day fun in France!
RAFMAA 2014 Warbirds @ Wittering±
COMPETING IN THE USA Top Gun and Joe Nall meetings
RC MODEL FLYER SCALE TROPHY – WW1 @ Wantage!
HOW TO…
CUTTING TRIANGULAR STOCK – a simple jig
BUILDING FROM CUT PART WOOD SETS – part 4
THE BLACK ART – back to basics with Graham Iredale.
REGULARS
NEWS – what's going on in the RC model world!
ARMCHAIR PILOT A brace of mini book reviews
LANDING GEAR Products new to you?
DIARY DATES – what's on, where and when.
CONTACT US – and what's coming next month
DEBRIEF Technology for tomorrow?