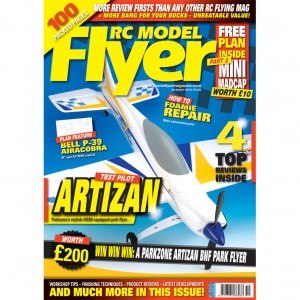 Oct 2014
FEATURES
SCALE 3-VIEWS
Bell P-39 Airacobra
SCALE FEATURE
Bell P-39 Aircobra
COMPETITION
Win A Parkzone ArtiZan AS3X Basic
OUTLINE
Amusing nostalgic anecdotes from Dave Bishop
JET POWER
A NEW series from Colin Gontier
CLUBMAN
More tales from Peter Miller
IN DETAIL
Duxfords' Bell P-38Q Airacobra
SLOPE SLANT
The View from the Hill
VINTAGE CORNER
More from Alex Imrie's Aeromodeller archive
FRENCH CONNECTION
More mayhem on the piste!
PLANS
PLAN REVISITED
EP Bell P-39 Airacobra
FREE PLAN
Peter Rake's Mini Madcap EP vintage model – part 2
REVIEWS
PARKZONE
ArtiZan AS3X Basic
GRAUPNER MZ-24
12 channel 2.4GHZ radio – part 3
QUANUM
Nova GPS Waypoint RTF Quadcopter
LRPAiracobra Speedbird
HOW TO…
FOAMIE REPAIRS
a new tailplane for a T-28
LIPO PACK STORAGE
A new role for a French Army First Aid box
REGULARS
NEWS – what's going on in the RC model world!
LANDING GEAR
Products new to you?
CONTACT US – and what's coming next month
DIARY DATES – what's on, where and when.
DEBRIEF Technology for tomorrow?