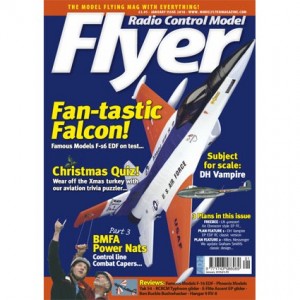 CHRISTMAS QUIZ – 20 questionsNo prizes, just a headache from these teasers!
HALCYON DAYSFF Nostalgia looks at spark ignition, part 1.
BMFA Nats – part 3Combat circles fight it out…
RALLY RETRO – Multiplex @ BaldockThe German co. organises a UK fun day…
FREEBEE PLAN – LN 40nezer!An Ebenezer variant for EP FF…
SPACE MODELLING – Belgrade CupVertical challenges in Serbia…
PLAN FEATURE – DH 100 VampireBuild our little EP pusher 3 channel pseudo-jet.
SCRATCHBUILD – Miles MessengerA classic plan brought up-to-date by Peter Shaw.
F-16 FIGHTING FALCONEDF scale foamie from the Famous Model Co.
YAK 54Phoenix Models stunner for .60 – .90 power.
TYPHOONA 2m soarer glider from RC RCM.
ASCENT 450 BLE-flite's 54" span electric glider.
BUSHWHACKERAn all-wood trainer kit from Ben Buckle kits.
RV-8Hangar 9's neat little model of the homebuilt, for .46 power.
WORKSHOP 1 – Lathe work for modellers – part 1A short series of modellers lathe projects.
SUBJECT FOR SCALE – DH 100 VampireExciting schemes to tie in with our featured plan.
Shipping & Delivery Charges On Back Issues
Free postage to all UK destinations
Shipping to European destinations is charged at £1.50 per issue
Shipping to Worldwide destinations outside Europe is charged at £2.70 per issue