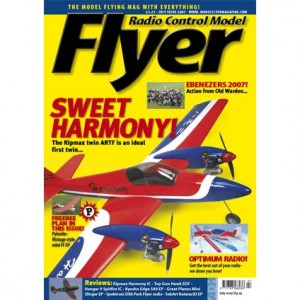 RADIO RAMBLING – Make the most of your mixes Part 1
choosing a radio system.
RALLY RETRO 1 – Ebenezers 2007
It was wet, but it ddn't stop the fun!
NOSTALGIA – Halcyon days
Vintage gossip and goings on…
COMPETITION
Win an ARTF Spifire Mk.II from Horizon Hobby UK!
FREEBEE – Pylonite
A FF vintage style duration model for EP…
UNUSUAL PROJECTS – Vacuplanes
Short span, high lift ideas – do they work?
HARMONY
Ripmax's .40 powered twin ARTF.
EDF HAWK
Top Gun's foam scale EDF RTF package.
SPTFIRE Mk.II
Hangar 9's 60 powered warbird ARTF.
KATANA 3D EP
SebArt super light extreme action ARTF machine.
SPEKTRUM DX6
2.4Ghz for park fliers – fly anywhere!
MINI SLINGER
A little foam EP flying wing from Great Planes.
EDGE 540
Kyosho's ED ARTF aerobat is a sweet machine.
WORKSHOP – Flying Greenhouse!
A scratch-built RC Blohm and Voss 141 flies to fruition.
Shipping & Delivery Charges On Back Issues
Free postage to all UK destinations
Shipping to European destinations is charged at £1.50 per issue
Shipping to Worldwide destinations outside Europe is charged at £2.70 per issue