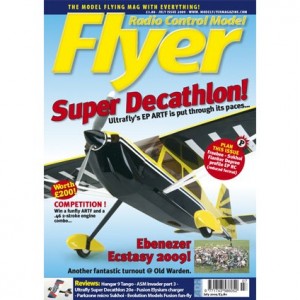 DESIGN – Lift Coeficient
We try to explain this little understood variable…
COMPETITION!
Win an ARTF Fun-fly and engine! A Hangar 9 Tango and Evolution 46 to be won!
SPACE MODELLING – Cataclysmic Catalunya!
5th Catalunya Cup Rocket Fest…
ANNIVERSARY
40 yrs of DB Sport & Scale!
FREEBEE PLAN – Sukhoi Profile
A Depron EP pusher of the Flanker (reduced)…
FEATURE – EBENEZERS 2009!
Brilliant day at Old Warden – again!…
FEATURE – Aerobatics for All pt. 1
A new series for budding aerobats…
YOUR BMFA INSURANCE
What it does for you!
MODEL SPOTLIGHT – Little Rocket part 1
A chance encounter in Florida…
SUPER DECATHLON
Ultrafly's bigger EP beauty…
TANGO
Hangar 9's ARTF funfly is a bit different…
INVADER part 3
The ASM twin ARTF nears its first flight!
ELYSIUM
The versatile charger from Fusion is put through its paces.
FUSION
Evolution Models performance fun fly kit.
WORKSHOP – Building by degrees part 17
Marking out parts ready for cutting.
SUBJECT FOR SCALE
Bristol Beaufort Colour schemes of this seldom
modelled bomber.
Shipping & Delivery Charges On Back Issues
Free postage to all UK destinations
Shipping to European destinations is charged at £1.50 per issue
Shipping to Worldwide destinations outside Europe is charged at £2.70 per issue