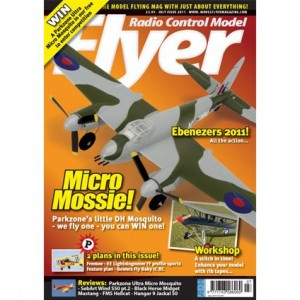 PARKZONE Mosquito
a super little BNF twin.
SEBART Wind S50E – part 2
We finish and fly this F3A practice machine…
BLACK HORSE – Midget Mustang
.60 sized ARTF Reno Racer…
FMS Hellcat
Foam EP Fighter
HANGAR 9 – Jackal 50
Potent prop jet.
WORKSHOP
Apply rib tapes
COMPETITION
Win a Parkzone DH Mosquito BNF twin!
ROCKETRY – Reach for the Stars – part 3
Propellant – more bang for your buck?.
RALLY RETRO – Ebenezers 2011!
All the windswept action from Old Warden…
FEATURE – Bernoulli's Theorem trashed!
How wings really do fly…
FEATURE – Plastic CL kits – pt.1
Remember those Cox kits?…
RALLY RETRO – Ron Moulton Memorial Day
Control line fest in tribute to a great man…
FREEBEE PLAN – Lightningnezer
Do you have the nerve…
FEATURE PLAN – Bowers Fly Baby
A second look at a popular plan for a sports scale bipe.
SCALE FEATURE
Bowers Fly Baby
RALLY RETRO – Boddo Memorial Day
Radio Control action in tribute to a great man…
FLYING RC – Scale Flight – part 3
Take off and landing!
Shipping & Delivery Charges On Back Issues
Free postage to all UK destinations
Shipping to European destinations is charged at £1.50 per issue
Shipping to Worldwide destinations outside Europe is charged at £2.70 per issue