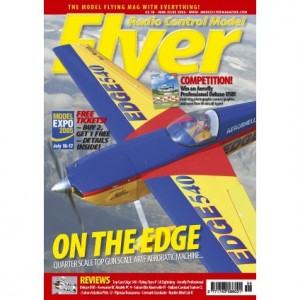 COMPETITION! Win a super flight simulator!
FREE FLIGHT CONTEST The contest scene – so far, in 2005.
FREEBEE – SCLEICHER Ka8 A 1.5m 2-channel slope soaring sailplane…
TEST PILOT – EDGE 540 Top Gun's BIG scale aerobatic ship…
PRODUCT TEST – Aerofly Deluxe The latest super flight sim from Ikarus
TEST PILOT – P-38 Lightning part 1 The Flying Styro EP RC twin…
TEST PILOT – GRADUATION DAY! A smart and versatile 40 powered ARTF from Cermark
TEST PILOT – AWESOME PC-9! A foam park flier that's fast, from UltraFly
TEST PILOT – MAM'SELLE Vic Smeed FF beauty in kit form from Falcon Kits
TEST PILOT – HALLAM CL TRAINER Learn to fly CL combat with this flying wing…
TEST PILOT – PITTS 12 Not the usual Pitts – but everybit as special!
TEST PILOT – Slo – V An RTF slow flyer that can be flown whatever the weather!
TEST PILOT – Bossanova! Ripmax's ARTF 3D funflyer for .60 power…
MOTOR MOUTH – MiniCub The Rustler U/C Oliver Cub mini replica…
WORKSHOP – Doug's Claude – part 2 We complete the build and fly the Mitsubishi AM5.
WORKSHOP – Back to basics Boddo reconverts another EP model to IC!
Shipping & Delivery Charges On Back Issues
Free postage to all UK destinations
Shipping to European destinations is charged at £1.50 per issue
Shipping to Worldwide destinations outside Europe is charged at £2.70 per issue