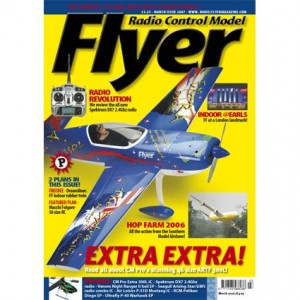 PLAN FEATURE – Macchi Folgore 202
.50 powered WW2 fighter for 5 channel RC.
SCALE FEATURE – Macchi Folgore 202
Side view schemes and potted history of Italian fighter.
RALLY RETRO I – Southern Model Airshow 2006.
Some of the action from the Hop Farm, Paddock Wood.
FREEBEE – Dreamliner
FF Indoor twin rubber power
RALLY RETRO II – Indoor at Earls Court!
FF at a unique venue!
RALLY RETRO III – SAMS Champs, USA – Pt.2
Ken Croft completes his report with good news!
SPEKTRUM DX7 – 2.5Ghz fullrange radio system from Helger Flight.
Is this the future of RC systems?
CM Pro EXTRA 330L – J Perkins'
50 powered IC/EP ARTF aerobat with a bit extra!
VENOM NIGHT RANGER II
RTF EP heli from CML Distribution.
SEAGULL MODELS ARISING STAR/GWS/SC COMBO
IC Trainer package that's terrific value for money.
AIR LOISIRS P-51D Mustang
40 powered ARTF fighter.
RCM-PELIKAN DINGO
EP Aerobat from Puffin Models.
ULTRAFLY P-40 WARHAWK
EP foam scale parkflyer that flies like a dream.
WORKSHOP – Multiplex downloads for esc programming.
Shipping & Delivery Charges On Back Issues
Free postage to all UK destinations
Shipping to European destinations is charged at £1.50 per issue
Shipping to Worldwide destinations outside Europe is charged at £2.70 per issue