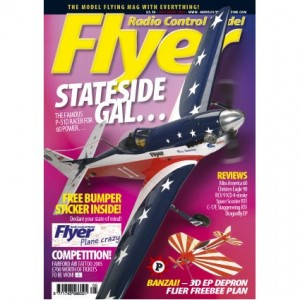 Halycon Days 2 – A Second Helping Of Nostalgia
Feature Plan – Silent Arrowa Semi-scale Do 335 For Slope Soaring PSS
Freebee – Banzai! A Depron Sheet 3d Machine For Full House EP
Slope Slant Pete Beadle's view from the hill…
Rally Retro – Haigh Hall 2005 Mega and manageable models…
Free Flight Contest – Junior World Champs – A short view of events…
Competition! – Win tickets for Riat! Ten pairs of tickets for The Fairford Air Tattoo!
Test Pilot – Miss America – Hangar 9's .60 P-51 revisited – in new colours
Test Pilot – Space Scooter – A sooper doper RTF from Multiplex
Test Pilot – Staggerwing – An RTF bipe from the golden era
Motor Mouth – RCV 91CD – We take an operational view of the large RCV powerhouse
Test Pilot – Soar with the eagle – Protech Uk's Christen Eagle ARTF takes to the air…
Test Pilot – Dragonfly – The ultimate park flyer performance from Cermark?
Test Pilot – Phantastic – Pt.2 – The VMAR Phantom F4 ARTF in the air…
Workshop – Doug's Claude Pt.1 Restoring the uncompleted AM5 built by Doug Mchard
Workshop – Ebenezer Final Call! Some ideas again for the May mass launch!
Workshop – Soldering On! Good advice to help you reach soldering perfection.
Shipping & Delivery Charges On Back Issues
Free postage to all UK destinations
Shipping to European destinations is charged at £1.50 per issue
Shipping to Worldwide destinations outside Europe is charged at £2.70 per issue