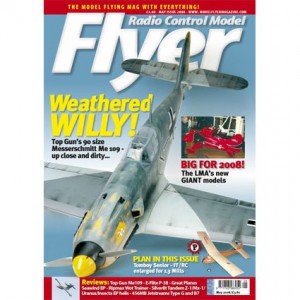 HALCYON DAYS!
More FF vintage matters…
THERE BE GIANTS 2008!
The LMA new biggies in progress…
PLAN FEATURE – Tomboy Senior
Boddo enlarges the classic FF model up to 1.3cc size.
DESIGN FROM SCRATCH – part 2
The Stearman Hammond Y-1S progresses.
COMPETITION!
Win a pair of Silverlit NEW EP helis…
MESSERSCHMITT 109
Top Gun's 90 powered warbird ARTF.
P-38 LIGHTNING
A stunning ARTF from E-Flite.
SEAWIND EP
A Foam ARTF waterplane from Great Planes.
WOT TRAINER
Ripmax's new pedigree trainer/sports aerobat.
PICOO Z
The next Generation – FOUR new micro EP helis.
JETSTREAM DUO
The 456MB Type G and Type B7 EP EDF jets.
WORKSHOP – Optimum Radio – part 10
More on batteries and connectors…
WORKSHOP
Converting a Flyzone micro FF foamie to RC.
WORKSHOP – Building by degrees – part 4
Shaping and joining the wings to the fuz.
Shipping & Delivery Charges On Back Issues
Free postage to all UK destinations
Shipping to European destinations is charged at £1.50 per issue
Shipping to Worldwide destinations outside Europe is charged at £2.70 per issue