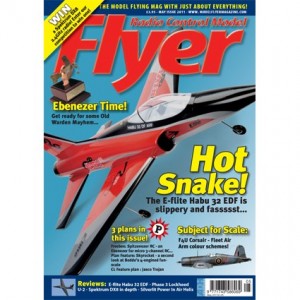 FEATURE – Ebenezers 2011!
Get ready for the May event…
NOSTALGIA – Trojan History
One man's experience with a Jasco CL trainer…
RALLY RETRO 1 – ISA Nostalgia Day
Old memories on the slope at Ivinghoe.
FLYING RC – Scale Flight – part 1
Fly your RC scale model realistically!
FREEBEE PLAN – Spitzener!
If you hurry, you still have time to build one!
RALLY RETRO 2 – Indoor Scale Nats 2010
Miniature masterpieces in action…
FEATURE PLAN – Skyrocket!
Boddo-designed Grumman Skyrocket for FOUR engines!
ROCKETRY – Reach for the Stars – part 1
A new series to tell you all about building and flying model rockets.
FEATURE – Model Magnificence!
A new series looking at great models.
SCALE FEATURE – F4U Corsair
Some colour schemes of FFA Corsairs.
Hot Snake!
E-flite's Habu 32 EDF – part 1
Micro Heli Trio!
We let the office staff some Silverlit playtime!
Lockheed U-2
A foam ducted fan RTF spyplane from Phase 3…
Spektrum DX8 radio
A closer look at this stunning radio.
Shipping & Delivery Charges On Back Issues
Free postage to all UK destinations
Shipping to European destinations is charged at £1.50 per issue
Shipping to Worldwide destinations outside Europe is charged at £2.70 per issue