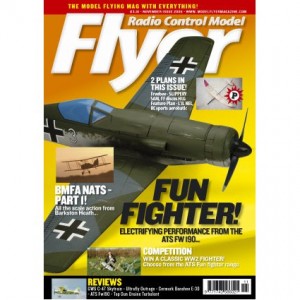 RALLY REPORT – NATS part 1 BMFA at Barkston Heath, all the scale action…
FEATURE PLAN – L'IL NEL Sports aerobatics for .50 power, foam or built-up wing…
FREEBEE – SLIPPERY SAM Competitive FF discus launch HLG.
FREE FLIGHT – POWER FOR E30 part 1 Trevor Grey looks at suitable power trains…
SCALE FEATURE- FW 190D Richard J Caruana gives some schemes for this WW2 fighter…
COMPETITION! Win an ATS Mayneline fun fighter for IC
NOSTALGIA – HALYCON DAYS A look at the recent SAM 35 vintage weekend at Old Warden.
TEST PILOT – C47 SKYTRAIN The GWS twin foamie version of the WW2 workhorse.
TEST PILOT – OUTRAGE! A foam 3D EP bipe from Ultrafly
TEST PILOT – BANCHEE E-3D Cermark's large, but lightweight, 3D EP machine!
TEST PILOT – FUN FIGHTER! ATS Mayneline Fw 190 IC fighter with an outrunner…
TEST PILOT – TURBULENT Top Gun's little scale EP Druine flies well…
WORKSHOP – EP CONVERSION We take a medium sized IC ARTF and convert to EP.
THE BLACK ART The Electric Flight column
WORKSHOP – A TOY THAT FLIES! A model to get youngsters started?
Shipping & Delivery Charges On Back Issues
Free postage to all UK destinations
Shipping to European destinations is charged at £1.50 per issue
Shipping to Worldwide destinations outside Europe is charged at £2.70 per issue