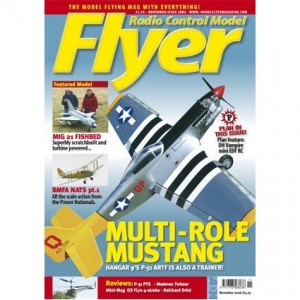 Slope Soaring – more views from the hill…
Rally Retro – RC World Champs full report from Sweden.
Plan Feature – Cozylite An EP Depron foam RC Canard based on Burt Rutan's leightweight.
Rally Retro – Max Model Show All the action from Wroughton!
Rally Retro – Dremel at Silverstone – A press event with a difference…
Star Model – A thumbnail look at a special Demoiselle….
Test Pilot – Fighting Falcon Cermark's F-16 IC propjet…
Test Pilot – Christen Eagle Art-tech's super ep rtf.
Test Pilot – Volcano XD WMP IC 3D machine.
Test Pilot – Picoo Z probably the smallest, cheapest heli…
Test Pilot – Cessna 182 E-flite's attractive foam park flyer.
Test Pilot – Ara! Jamara's economy electric glider make a good start…
Workshop – Dual Personality! An ARTF IC twin fantasy makeover…
Workshop – Stinson Upgrade pt. 3 – Increasing the scale appeal of the Top Flite Giant Scale kit Reliant.
Shipping & Delivery Charges On Back Issues
Free postage to all UK destinations
Shipping to European destinations is charged at £1.50 per issue
Shipping to Worldwide destinations outside Europe is charged at £2.70 per issue