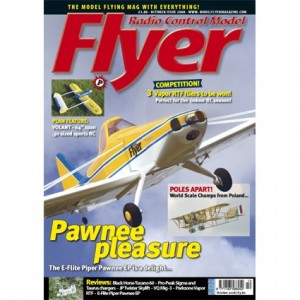 RALLY RETRO2008 World Scale Championships.
SLOPE SLANTMore Soaring from the Hill…
WORHSHOPOrganise a Fun Fly event!
FEATURED PLANVolant Build this IC sports twin boom aerobat…
DESIGN – Blohm and Voss P170, part 2A WW2 'paper' airplane – will it fly?
RALLY RETROWonderful Old Warden!
PAWNEE PLEASUREThe E-Flite EP crop duster.
TUCANO 60Phoenix Models twoseater for 60 power.
SIGMA/TAURUSTwo useful chargers from Pro-Peak.
SKYLIFTThe Twister EP twin rotor marvel.
MIG 3A rarely modelled 40 sized warbird from VQ.
VAPORParkzone's little RTF indoor EP flyer.
WORKSHOP – Building by degrees – part 8.Building the Eindekker wing!
Shipping & Delivery Charges On Back Issues
Free postage to all UK destinations
Shipping to European destinations is charged at £1.50 per issue
Shipping to Worldwide destinations outside Europe is charged at £2.70 per issue