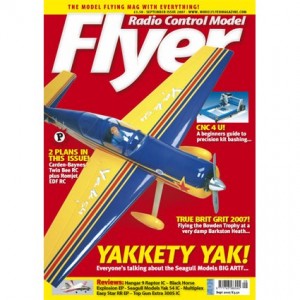 NOSTALGIA – Halcyon Days
More Vintage matters…
WORKSHOP 1 – CNC for beginners
Part 1 – what it's about..
COMPETITION
Win a high performance outrunner motor and esc.
FREEBEE – Carden Baynes Twin Bee
Indoor FF scale for micro EP…
MOTOR MATTERS – The Dynamic Trinity
Power, torque – and the propeller – part1.
ELECTRIC PROJECT – Mini ducted fan
Build a hot little EDF unit…
RALLY RETRO – The Bowden Trophy 2007
The weather tried to spoil the fun, but they kept on flying…
YAK 54
Seagull Models big IC aerobat…
EXPLOSION
Black Horse EP stunter – 25 size.
RAPTOR PTS
Hangar 9 shows that trainers can be cool!
EXTRA 300S
Top Gun's 60 powered version of an aerobatic classic.
EASY STAR RR
Multiplex's EP is most excellent for beginners…
WORKSHOP
Repairing a damaged ARTF.
WORKSHOP – Make the most of your mixes
Part 3 – More good advice on getting the best out of your radio.
Shipping & Delivery Charges On Back Issues
Free postage to all UK destinations
Shipping to European destinations is charged at £1.50 per issue
Shipping to Worldwide destinations outside Europe is charged at £2.70 per issue