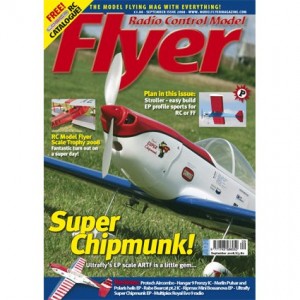 OPTIMUM RADIO part 14Royal Evo from Multiplex.
RALLY RETRO 1RC Model Flyer Scale Trophy Meet 2008.
FEATURED PLAN – StrollerBuild this EP sports flyer for FF or micro RC…
COMPETITIONWin a Yak 54 kit!
RALLY RETRO 2 – Gravelines 2008Great hospitality at this French flying meeting…
DESIGN – Blohm and Voss P170, part 1A WW2 'paper' airplane – but will it fly?
SUPER CHIPPIEUltrafly's EP ARTF Super Chipmunk.
MINI BOSSA NOVARipmax 3D machine reduced in size, but not performance…
FRENZY!Hangar 9's Aerobatic machine for IC power.
AIRCOMBO!Protech's RTF fixed wing and rotary wing package deal!
MERLIN MAGIC!Two EP helis from Merlin to consider.
RABE BEARCATWe finish the all scratch-built CL stunter, part 2.
WORKSHOP – Building by degrees – part 7Building the Eindekker fuselage!
Shipping & Delivery Charges On Back Issues
Free postage to all UK destinations
Shipping to European destinations is charged at £1.50 per issue
Shipping to Worldwide destinations outside Europe is charged at £2.70 per issue