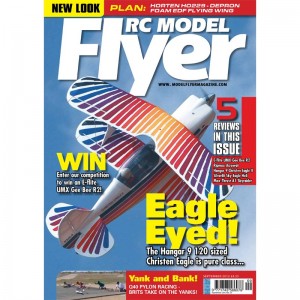 September 2012
FEATURES
15 COMPETITION – win an E-flite UMX Gee Bee R2
20 JET SCENE – What's happening in the world of model jets
24 YOUR CALL – Readers letters with a Star Prize!
30 JOIN THE JET SET – Get started with Jets – part 2
40 MODEL MAGIC – A Horten Ho229 twin turbine powered flying wing
48 PLAN FEATURE – Horten/Gotha 229
A 'loose scale'  EP Depron RC Flying wing…
60 SCALE SOARING Â – Silent masterpieces – part 1
70 FIRST PERSON VIEW – part 2
We start to look at what you need
80 YANK AND BANK – Brits take on the Yanks!
Pylon Racing, Stateside.
84 MILLERS TALES – part 2
Another aeromodelling pot-pourri…
88 SCALE TROPHY, 2012 – RC Model Flyer Event
North Berks hosts a super scale day
REVIEWS
12 E-FLITE UMX Gee Bee R2
We fly an amazing version of the barrel shaped racer
34 RIPMAX Acrowot
An ARTF version of the Chris Foss Classic…
56 HANGAR 9 Christen Eagle
Aerobatic biplane for 150 power
64 SILVERLIT Sky Eagle
A larger contra rotating heli
72 MAX-THRUST Skyraider
A foam EP postwar scale fighter from Century UK
REGULARS
6 NEWS – what's going on in the RC model world!
16 NEW PRODUCTS – seen these before?
54 OUTLINE – Dave Bishop says…
70 DIARY DATES – what's on, where and when.
76 THE BLACK ART Electric Flight Column
98 DEBRIEF – Technology today, RC modelling tomorrow!