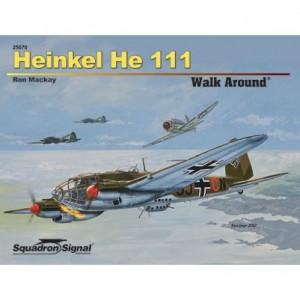 Also available with hard cover (65070)
The Heinkel 111 saw service on all Germany's military fronts in the European Theater of World War II. The He 111 entered the war as a medium bomber, supporting Wehrmacht ground campaigns. After the tide in the conflict had turned against the Reich, and air superiority had been achieved by the Soviet Union and the Western Allies, the Heinkel 111 was largely relegated to transport functions. This iconic warplane had its origins as a cutting-edge civil airliner in the mid-1930s. But war was looming and before long it was adapted for use as a bomber. The first mass-produced versions, the He 111-E and He 111-F, served in the Condor Legion with Francisco Franco's Nationalist forces in the Spanish Civil War, paving the way to further military engagement once World War II broke out. Although produced in large numbers and exported to many countries before and during the war, few examples of the He 111 survive today. This walk around features detailed photographic images of the He 111-P1 restored and preserved in Norway, and the He 111-H20 on display in the RAF museum in Britain.
Illustrated with 228 photographs, detailed line drawings, and color profiles. 88 pages.
Soft cover ISBN = 978-0-89747-694-2
Hard cover ISBN = 978-0-89747-693-5