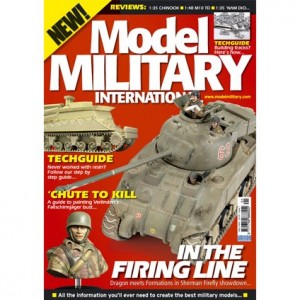 Issue 001 – May 2006
• IN THE FIRING LINE
Dragon's 1:35 Sherman Firefly Vc gets the Formations makeover, and more…
• TECHGUIDE
Tips and techniques for building resin kits, using Resicast's 1:35 Beach Armoured Recovery Vehicle as the guinea pig.
• 'CHUTE TO KILL
Verlinden's 200mm Fallschirmjäger bust is brought to life by Frazer Gray's expert hand – a full painting guide is included
• FIRE MISSION
Vietnam war vignette based on Great North Roads 1:35 firebase revetment.
• CH-47A CHINOOK
Our first look at Trumpeters 1:35 Chinook – it's big, but is it good?
• Also in Issue 1…
Friulmodel track building techguide
Nuremberg 2006 show report
Dragon 1:35 King Tiger
Tamiya 1:48 M10 TD
New figure releases
Book reviews
References
Incoming
Glossary