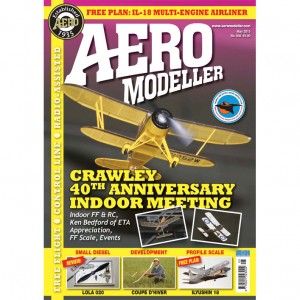 AeroModeller issue 018 (936) April 2015 (Published April 16th)
Heard at the Hangar Doors
Editorial, News and Views
Up and Coming
Calendar of Events for the next months.
Off the Shelf
A look at new and innovative products.
AeroPost
Readers' letters by post and email.
Power Trip – LOLA 020 Diesel
This jewel of a small engine is put through its paces by Maris Dislers.
The Masefield Britannia Trophy
This rubber powered scale competition has been opened up to more designs – John Ashmole explains.
Ken Bedford of ETA Engines
An appreciation of the late Ken Bedford by his friend Malcolm Ross.
Introduction to Micro RC
Peter Rake joins AeroModeller as a columnist and covers the basics on the smallest RC available.
The Coupe d'Hiver Story
Mike Evatt traces the development of the F1G class.
Scale Matters
Bill Dennis reports from the Manchester Velodrome and looks forward to events in 2015.
FREE PLAN – Ilyushin IL-18
Something a little different from Robert Pajas with this profile 4 engine airliner for FF or RC.
Flying at Scale Speed
Bob 'Sideshow' Davis on reproducing scale flying speeds with models.
CL Reels, Boxes & Stuff!
Chris Coote surveys the different approaches to CL model boxes.
Better… Trimming, Part 11
John O'Donnell on those first flights.
Web Walk
Our cyberman Mike Evatt, trawls the web for more modelling gems.
Crawley 40th Indoor Meeting
Your editor reports from this popular event.
Rubber days at Viabon
This early 2105 event in France now includes scale as well as duration. Michael Woodhouse reports.
Inside Indoor, Part 3
The skills and science of indoor duration flying by Clive King.
Scale Rubber
Andrew Hewitt on covering your model's structure.
From the Armchair
A relaxed look at modelling and aviation ephemera through the ages by Supercool.
Indoor Mentoring
Tony Hebb explains what is being done to encourage the next generation of top F1D flyers.
Tail End Charlie
The thoughts of Chris Ottewell.