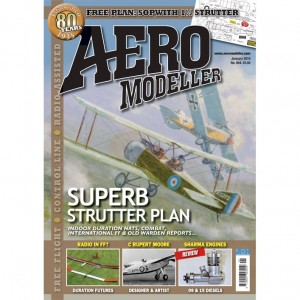 AeroModeller issue 026 (944) Jan 2016 (Published Dec 17th)
04 Heard at the Hangar Doors
Editorial, News and Views
07 Up and Coming
Calendar of Events for the
next months.
08 Off the Shelf
A look at new and innovative
products.
10 RC in FF Duration?
Stuart Darmon considers whether
Radio 'Assist' has a role in the future of
Free Flight.
14 Nationals – CL Combat
The delayed Nats Combat is
completed at Darley Moor. Mick
Lewis reports.
18 Indoor Nationals
Bob Bailey reports from new Nats
venue, the Brabazon Hangar.
21 80th Anniversary Quiz
The Answers and Winners.
22 Engine Review – Sharma Diesels
Little known outside of India, Adrian
Duncan tests the Sharma 09 and 15.
26 Remembering C. Rupert Moore
Richard Riding looks back at the
life of his friend CRM, the painter of classic
AeroModeller covers.
30 FREE PLAN – Sopwith 1½ Strutter
Celebrate the centenary of this WWI
biplane with Richard Crossley's model.
39 Win an Airbrush
The Airbrush Company provide the
prize for this reader Quiz.
40 Festival of Flight
The last ModelAir event of the
Old Warden season is covered by Andrew
Boddington.
42 Eifel Pokal FF
Mike Evatt report from this FF
World Cup event in France.
44 POLECAT Mini-Goodyear
Racer Part2
Peter Jephcott completes last issue's Free Plan.
48 Power Trip
The Oily Hand brigade at play! Maris
Dislers reports from Down Under.
50 From the Armchair
'Supercool' Stuart Sherlock continues
his reading and experiments.
53 Aero Post
Readers' letters by post and email.
56 The Advent of MacHines
A McGillicuddy Tale by John
O'Donnell.
58 For Old Times' Sake
Don Howie's vintage perspective from Oz.
62 Oils are Oily! Part 2
Brian Winch tests synthetic
engine lubricants.
66 Tail End Charlie
The thoughts of Chris Ottewell.