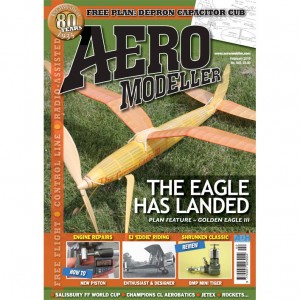 AeroModeller issue 027 (945) Feb 2016 (Published Jan 21st)
04 Heard at the Hangar Doors
Editorial, News and Views
07 Up and Coming
Calendar of Events for the next months.
08 Off the Shelf
A look at new and innovative products.
10 Power Trip – BMP Mini Tiger
This shrunken replica Tiger diesel of
0.5cc is put through its paces by Maris Dislers.
14 Plan Feature – Golden Eagle III
Keith Palmer has resurrected this prewar
gull wing beauty. Plans available from ADH.
20 Rocket Propulsion History
Before Jetex rockets were being used to
power models. Roger Simmonds looks back.
24 A Wind Tunnel at School
Cameron Liddell-Grainger shares with
us his Design & Technology A' level project.
26 FF World Cup
Two free flight World Cup events in one
weekend at Salisbury are reported on by Mike
Evatt.
28 Scale Matters – Interscale 2015
Bill Dennis reports from the
international indoor scale at Nijmegen.
32 FREE PLAN – CAPACITOR CUB
Fred Burman's simple electric powered
Depron Piper uses a capacitor for storage.
36 Engine Repairs – Make a Piston
Allan Voyce takes you step-by-step
through making a fl at topped piston on a lathe.
42 Scale Space Rockets
The Ukrainian competition for Europe's
best rockets is reported on by Stuart Lodge.
44 E. J. 'Eddie' Riding
Richard Riding remembers his father
the talented model designer and aviation
enthusiast who contributed to AeroModeller in
the 1940s.
50 Impington Indoor Event
The popular IVCMAC event is covered
by Andrew Boddington.
52 Aerobatic Champion of Champions
Paul Winter looks back at the prestigious
CL aerobatics competition he organised.
56 Better… than a Skip! Part 20
John O'Donnell asks what he should do
with a lifetime's worth of ephemera?
60 Aeromodelling in the RAF
Neil Tricker tells us about the
RAFMAA.
62 Gilding's Aero Engine Auction
What delights were sold at the annual
sale? Andrew Boddington was there.
64 Free Flight Forum
Mike Evatt gives a flavour of this event
for FF flyers, held after the BMFA AGM.
66 Tail End Charlie
The thoughts of Chris Ottewell.