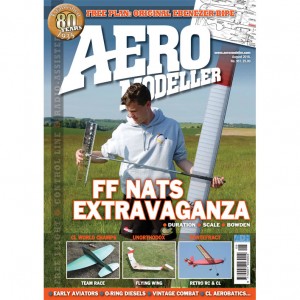 AeroModeller issue 033 (951) Aug 2016 (Published July 21st)
04 Heard at the Hangar Doors
Editorial, News and Views.
07 Up and Coming
Calendar of events for the next months.
08 Off the Shelf
A look at new and innovative products.
10 Power Trip
The use of O-rings on diesels. Why
and how to replace them by Maris Dislers.
BMFA FREE FLIGHT NATIONALS 2016
14 FF Nats – Duration
John O'Donnell reports on the
premier UK rubber, glider and power
duration contests.
22 FF Nats – Scale Matters
An abundance of all levels of FF
scale over the Nationals weekend is dissected
by Bill Dennis.
28 FF Acronyms Part 2
Mike Evatt sheds light on those
TLAs to do with FF props and wings.
31 Super Phatic Hinges
John Bristow shows a cleaner alternative
to gluing hinges with cyano or epoxy.
32 FREE PLAN – Ebenezer
Bert Striegler's original mid 1950's
all sheet biplane, the start of a genre of small
models.
38 Mick Reeves – A Modelling Life
Part 1 – Mick Reeves looks back at
his early years as a FF and CL modeller.
42 Unorthodox Flying Wings
John Close describes his passion for
tailless models.
44 Vintage Combat
Combat at Old Warden Mayfly –
Mick Lewis was in the thick of it.
46 From the Armchair
Early aviation books from
Aeronautical Publishers are reviewed by
'Supercool' Stuart Sherlock.
50 Pontefract Retro Event
The PANDAs club Retro RC and
CL Fun Fly. Report by Andrew Boddington.
54 FF Nats – Bowden Trophy
Granite jawed FF sports flyers
take on the Barkston Blast for the Bowden
Trophy.
CONTROL LINE WORLD
CHAMPIONSHIPS
57 Classic Team Race
Norman Kirton covers the
invitational Classic CL Team Race event.
58 F2C Team Race
The modern Team Racers are put
through their paces by Malcolm Ross.
62 F2B Aerobatics
Peter White reports on the CL
Aerobatics at the World Champs.
66 Tail End Charlie
The thoughts of Chris Ottewell.