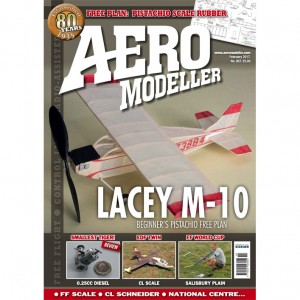 AeroModeller issue 039 (957) Feb 2017 (Published Jan 19th)
04 HEARD AT THE HANGAR DOORS
EDITORIAL, NEWS AND VIEWS.
07 UP AND COMING
CALENDAR OF EVENTS FOR THE
NEXT MONTHS.
08 OFF THE SHELF
A LOOK AT NEW AND INNOVATIVE
PRODUCTS.
10 SCALE MATTERS
BILL DENNIS HIGHLIGHTS SOME OF
THE LATEST FF SCALE MODELS.
14 THE IVAN TAYLOR STORY
IVAN HAS HIS BACKGROUND AND
FF DURATION PEDIGREE EXAMINED
BY DAVE HIPPERSON.
20 POWER TRIP – TIGER 0.25CC
MARIS DISLERS REVIEWS TECHNO
HOBBY'S SMALL OLIVER TIGER
REPLICA DIESEL.
24 FF WORLD CUP – SALISBURY
A WEEKEND OF WORLD CUP
DURATION AT SALISBURY PLAIN IS
COVERED BY MIKE EVATT.
28 CL SCHNEIDER TROPHY
LEICESTER MAC HAVE THEIR OWN
POOL FOR CL WATERPLANE EVENTS
IN 2017. ANDY GREEN REPORTS.
30 FREE PLAN – LACEY M-10
A CHARMING PISTACHIO SCALE FF
DESIGN FROM THE CAD PEN OF
ANDY SEPHTON.
40 TWIN EDF CL SCALE
RONNIE TRIBE SHARES HIS LATEST
DUCTED FAN BUILD, THE SU-25.
45 FF FORUM
MIKE EVATT'S SKETCH OF THE
ANNUAL GATHERING OF FREE FLIGHT
DURATION FLYERS.
46 TOM RIDLEY RIP
THE LATEST PRODUCER OF OLIVER
ENGINES IS REMEMBERED
BY JOHN GOODALL.
48 OLIVER AUCTION
JOHN S. OLIVER'S PERSONAL
COLLECTION OF ENGINES AND
MODELS IS DESCRIBED
BY LYNN WALTERS.
51 AERO POST
READERS' LETTERS BY POST
AND EMAIL.
52 MINIATURE IC RC?
WILL THE SMALLEST OF MICRO RC
SYSTEMS GUIDE A DIESEL-POWERED
MODEL? MIKE WATTERS
INVESTIGATES.
54 THE VINTAGE AVIATOR
YOUR EDITOR VISITS THIS
COLLECTION OF WWI AIRCRAFT IN
NEW ZEALAND.
58 FREE FLIGHT CLASSES
PART 3. MIKE EVATT CONTRASTS
THE DIFFERENT FF POWER CLASSES.
62 FROM THE ARMCHAIR
MORE INSPIRATION FROM BOOKS
FOR THE QUESTING MODELLER BY
STUART 'SUPERCOOL' SHERLOCK.
66 TAIL END CHARLIE
THE THOUGHTS OF CHRIS OTTEWELL.