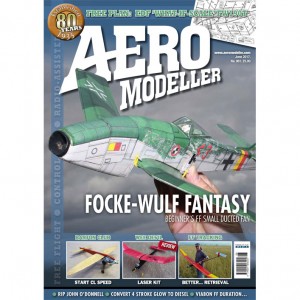 04 HEARD AT THE HANGAR
DOORS
EDITORIAL, NEWS AND VIEWS.
07 UP AND COMING
CALENDAR OF EVENTS FOR THE
NEXT MONTHS.
08 WEE DEVIL REVIEW
A CLASSIC-LINES PYLON MODEL KIT
IS ASSESSED BY MIKE WATERS
12 JOHN O'DONNELL RIP
JOHN'S AEROMODELLING OBITUARY
FROM HIS FRIEND DAVE HIPPERSON.
18 JO'D REMEMBERED
MANY OF JOHN'S FELLOW FLYERS
SHARE THEIR MEMORIES OF JOHN.
20 SCALE MATTERS
BILL DENNIS ON SCALE
PREPARATIONS FOR THE MAY BANK
HOLIDAY FF NATIONALS.
26 VIABON RUBBER DAYS
MICHAEL WOODHOUSE REPORTS
FROM THIS POPULAR LATE WINTER
FF EVENT IN FRANCE.
30 FREE PLAN –
FW190T 'TRUDI'
A 'WHAT-IF-SCALE' MODEL BY ROB
SMITH FOR THE SMALL 18MM
KPAERO EDF UNIT.
40 GIVE CAD A CHANCE
PART 3. BOB 'SIDESHOW' DAVIS
SHARES HIS DEVELOPMENT OF A
PLAN FOR AN UNORTHODOX
BOWDEN MODEL.
46 BETTER… RETRIEVAL
DAVE HIPPERSON ON TRACKING AND
RETRIEVING MODELS.
50 BARTON CLUB SPEED
THE 2ND OF THESE EVENTS TO
ENCOURAGE PARTICIPATION IN CL
SPEED IS REPORTED BY DICK HART.
54 FROM THE ARMCHAIR
STUART 'SUPERCOOL' SHERLOCK ON
DEVELOPMENT OF HIS CONTRAROTATING
PROP ELECTRIC SYSTEM.
58 ENGINES AND OIL
PART 3. BRIAN WINCH ON
CONVERTING FOUR STROKES AND
LATHE SKILLS.
66 TAIL END CHARLIE
THE THOUGHTS OF CHRIS OTTEWELL.