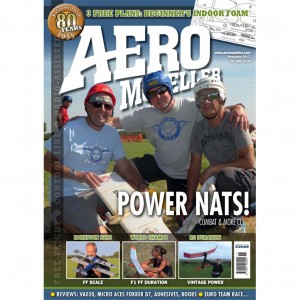 04 HEARD AT THE HANGAR
DOORS
EDITORIAL, NEWS AND VIEWS..
07 UP AND COMING
CALENDAR OF EVENTS FOR THE
NEXT MONTHS.
08 MICROACES KIT REVIEW
CONFIRMED BALSA BASHER PAUL
BLAKEBOROUGH BUILDS THE
DEPRON RC FOKKER D.VII.
12 F1 WORLD CHAMPIONSHIPS
CHRIS EDGE REPORTS FROM
HUNGARY ON THE PREMIER FF
COMPETITIONS.
20 PRODUCTS TEST
INNOVATIVE DELUXE MATERIALS
ADHESIVES ARE TRIED BY
MIKE EVATT.
24 POWER TRIP
THE SMALL VA020 GLOW ENGINE IS
TESTED BY MARIS DISLERS.
28 EURO TEAM RACE
MALCOLM ROSS REPORTS FROM THE
CL EURO CHAMPS.
30 FREE PLANS – STICK, TEXAN
& SPITFIRE
STEVE MIDSON ON ENCOURAGING
YOUNGSTERS IN TO
AEROMODELLING, AND HIS 3 SIMPLE
STICK AND FOAM DESIGNS.
39 GIVE CAD A CHANCE
PART 4. BOB 'SIDESHOW' DAVIS ON
THE FRUIT OF HIS CAD LABOURS.
BRITISH POWER NATIONALS
40 CL AEROBATICS
PETE TINDAL REPORTS FROM THE
STUNT CIRCLES.
42 CL COMBAT
IN DEPTH COVERAGE OF VINTAGE
AND OLIVER COMBAT BY MICK LEWIS
AND RICHARD EVANS.
46 FF SCALE
MIKE SMITH COVERS THIS LATE
ADDITION, FLYING ONLY, SCALE EVENT.
48 GEORGE CULL RIP
RICHARD RIDING REMEMBERS THIS
POST-WAR CONTRIBUTOR TO
AEROMODELLER.
50 BOOK REVIEW
NEW BOOKS REVIEWED
BY CHRIS OTTEWELL.
54 BETTER… RETRIEVAL
DAVE HIPPERSON ON USING BUGS TO
RETRIEVE MODELS.
59 AEROPOST
YOUR LETTERS AND EMAILS.
60 VINTAGE POWER DURATION
BILL LONGLEY ON THE SAM35 RC CLASS
THAT GIVES NEW LIFE TO CLASSIC FF DESIGNS.
62 FROM THE ARMCHAIR
STUART 'SUPERCOOL' SHERLOCK
EXAMINES AEROFOILS AND STREAMLINES.
66 TAIL END CHARLIE
THE THOUGHTS OF CHRIS OTTEWELL.