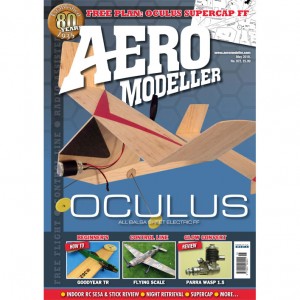 04 HEARD AT THE HANGAR
DOORS
Editorial, News and Views.
07 UP AND COMING
Calendar of events for the
next months.
08 OFF THE SHELF
New and Innovative Products.
10 POWER TRIP – PARRA WASP
A glow version of the 1.5cc engine is
put through its paces by Maris Dislers.
14 VIABON 2018
Mike Woodhouse reports from this
winter coupe event in France.
18 FOR OLD TIMES' SAKE
A vintage perspective from Oz
by Don Howie.
22 STITCHES & RIVETS
Using Deluxe Materials products to
apply scale surface details.
24 CRAWLEY INDOOR
Dave Bishop covers this popular
indoor FF event.
26 IN SCALE CIRCLES
Ronnie Tribe looks back at his 2017
output of CL scale models.
30 FREE PLAN – OCULUS
A quirky all balsa sheet FF model for
capacitor power from Gareth Evans.
38 FROM THE ARMCHAIR
Stuart 'Supercool' Sherlock derives the
theory of fl ight from Leonardo
and Newton…
42 TEAM RACE
Part 2 of a beginner's guide to
Goodyear racing by Simon Molyneux.
46 BETTER… RETRIEVAL
Finding your model in the dark.
Anecdotes and advice from
Dave Hipperson.
51 AEROPOST
Your letters and emails.
54 OPTIMISING SUPERCAPS
Part 2 on using two capacitors in
series, by Bob Lee.
KIT REVIEWS
58 MICROACES SE5A
Chris Ottewell is captivated by the
ready coloured small RC model kit
from Microaces.
62 TY 3-2 STICK
A novel balsa and stick kit complete
with simple RC and motor is reviewed
by Maris Dislers.
66 TAIL END CHARLIE
The thoughts of Chris Ottewell.