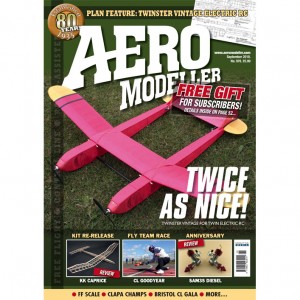 04 HEARD AT THE HANGAR
DOORS
EDITORIAL, NEWS AND VIEWS.
09 UP AND COMING
CALENDAR OF EVENTS FOR THE
NEXT MONTHS.
10 OFF THE SHELF
NEW AND INNOVATIVE PRODUCTS.
12 ZETA COMPRESSOR REVIEW
RICHARD CROSSLEY TESTS THE NEW
COMPRESSOR FROM SPARMAX.
16 KK CAPRICE
IAN LEVER REVIEWS THE RE-RELEASE
OF THIS CLASSIC GLIDER KIT
FROM RIPMAX.
20 POWER TRIP – SAM 35 & 50
TWO SMALL DIESELS TO CELEBRATE
THE 35TH ANNIVERSARY OF SAM 35
ARE RUN BY MARIS DISLERS.
26 CLAPA CHAMPS
PETE TINDAL REPORTS FROM THE UK
CL AEROBATIC CHAMPIONSHIPS.
30 PLAN FEATURE – TWINSTER
AN OUT-OF-THE-RUT TWIN VINTAGE
MODEL IS REDESIGNED FOR RC BY
COLIN BAXTER.
40 WAKEFIELD 1948
JIM WRIGHT UNCOVERS A MEMENTO
OF ROY CHESTERTON'S WIN OF THE
WAKEFIELD TROPHY.
42 BRISTOL CL GALA
MICK LEWIS REPORTS ON THE
VINTAGE COMBAT FROM THE
SBMAC EVENT.
46 SCALE MATTERS
FF SCALE AT THE DREAMING SPIRES
BY BILL DENNIS.
54 BETTER… RETRIEVAL
THE CONCLUDING ANECDOTES
FROM DAVE HIPPERSON.
60 TEAM RACE
3RD PART OF SIMON MOLYNEUX'S
GUIDE FOR GOODYEAR CL
BEGINNERS.
66 TAIL END CHARLIE
THE THOUGHTS OF CHRIS OTTEWELL.