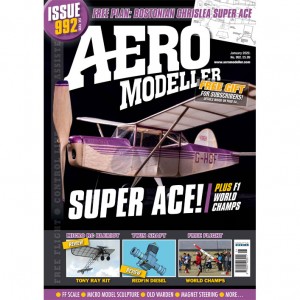 04 HEARD AT THE
HANGAR DOORS
EDITORIAL, NEWS AND VIEWS.
07 UP AND COMING
CALENDAR OF EVENTS FOR THE
NEXT MONTHS.
08 FF WORLD CHAMPS
FULL COVERAGE OF THE F1A, F1B
AND F1C WORLD CHAMPIONSHIPS
AT LOST HILLS, CALIFORNIA
BY CHRIS EDGE, MIKE FANTHAM
ET AL.
18 OFF THE SHELF
NEW AND INNOVATIVE PRODUCTS.
20 POWER TRIP –
TWIN SHAFT 15
THE REDFIN TETHER CAR DIESEL
ENGINE IS TESTED
BY MARIS DISLERS.
24 KIT REVIEW – BLERIOT XI
THE STEVE WEBB MODELS EDITION
OF TONY RAY'S MICRO RC KIT IS
REVIEWED BY MIKE WATTERS.
28 FREE PLAN – SUPER ACE
MIKE STUART'S BOSTONIAN FF
VERSION OF THE CHRISLEA
SUPER ACE.
38 SCALE MATTERS
FREE FLIGHT SCALE BY BILL DENNIS.
44 FF SLOPE SOARING
CHRIS MORTON ON THE F1E CLASS
FOR AUTOMATIC STEERING FF.
50 OLD WARDEN
THE LAST EVENT OF THE SEASON AT
THE SHUTTLEWORTH COLLECTION.
52 IN SCALE CIRCLES
CONTROL LINE SCALE UPDATE FROM
RONNIE TRIBE.
56 MICRO SCULPTURES
WILLARD WIGAN MBE IS PROFILED
BY HIS FRIEND DAVID RAWLINS.
62 MATRIARCHAL DYNASTY
JIM WOODSIDE SHARES HIS LOVE
FOR THE RADIO QUEEN.
66 TAIL END CHARLIE
THE THOUGHTS OF CHRIS OTTEWELL.