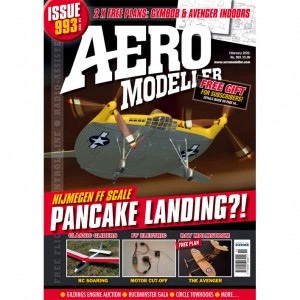 04 HEARD AT THE HANGAR
DOORS
EDITORIAL, NEWS AND VIEWS.
09 UP AND COMING
CALENDAR OF EVENTS FOR THE
NEXT MONTHS.
10 ENGINE AUCTION
THE ANNUAL AERO-ENGINES SALE
AT GILDINGS.
14 CIRCLE TOWHOOKS
PART 1: MARTIN DILLY LOOKS AT THE
HISTORY OF MECHANICAL HOOKS.
20 POWER TRIP – ED CADET
MARIS DISLERS RE-EXAMINES THIS
NOTORIOUS UNDER PERFORMER.
24 BUCKMINSTER FF GALA
HOW WAS THE LAST-MINUTE DATE
FOR STUART DARMON?
28 FREE PLAN 1 – GYMBOB
DAVID LOVEGROVE'S ALL BALSA
SHEET CAPACITOR POWERED
INDOOR MODEL.
34 FREE PLAN 2 – THE
AVENGER
RAY MALMSTRÖM'S WARTIME
RUBBER-POWERED CARICATURE
TWIN.
38 IIFI SCALE
EUROPE'S FINEST INDOOR SCALE
FLYERS AT NIJMEGEN. REPORT
BY PETE FARDELL.
44 FF SLOPE SOARING
PART 2 OF CHRIS MORTON ON
THE F1E CLASS FOR AUTOMATIC
STEERING FF.
50 FF CUT-OFF
SCALE FLYER STEVE GLASS ON HOW
TO USE RC TO CUT ELECTRIC
MOTORS.
56 CLASSIC SOARING
MICHAEL KITCHEN'S BEGINNER'S
INTRODUCTION TO TRADITIONAL RC
SLOPE SOARERS.
62 IMPINGTON
THE VILLAGE COLLEGE INDOOR
EVENT COVERED
BY ANDREW BODDINGTON.
66 TAIL END CHARLIE
THE THOUGHTS OF CHRIS OTTEWELL.