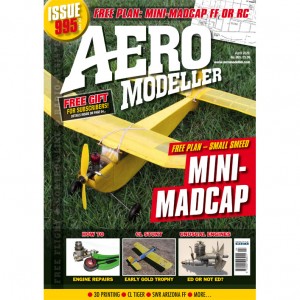 04 HEARD AT THE
HANGAR DOORS
EDITORIAL, NEWS AND VIEWS.
09 UP AND COMING
CALENDAR OF EVENTS FOR THE NEXT MONTHS.
10 UNUSUAL ENGINES
JOHN GOODALL UNCOVERS SOME ODD-LOOKING
DIESEL DERIVATIVES.
14 POWER TRIP
THE HISTORY OF EARLY UK CL STUNT MODELS BY
MARIS DISLERS AND IAN SMITH.
18 HENRY J NICHOLLS
PART 1. STUART MARSDEN ON THE LIFE OF HJN
THE PROPRIETOR OF 308 HOLLOWAY ROAD.
22 3D PRINTING
PART 2: BRIAN SPENCER DESCRIBES HIS
APPROACH TO 3D PRINTING FLYING MODEL
COMPONENTS.
28 FREE PLAN –
MINI-MADCAP
JIM WOODSIDE'S SMALL 0.5CC VERSION OF THE
VIC SMEED CLASSIC.
38 CL TIGER
DAVID MURRELL'S CL CONVERSION OF THE
TOWNER DH TIGER MOTH.
43 KK GRASS
DID THE FABLED KEIL KRAFT LONG GRASS
ACTUALLY EXIST?
44 ENGINE REPAIRS
THE LATE BRIAN WINCH ON DISASSEMBLING
SMALL ENGINES.
50 FOR OLD TIMES' SAKE
A VINTAGE PERSPECTIVE FROM OZ BY DON
HOWIE.
56 SWR ARIZONA
MIKE WOODHOUSE CAPTURES THE SUN AND FF
AT THE USA SOUTH WEST REGIONALS.
60 INDOOR ACE
ARNALDO CORREIA CONVERTS THE RIPMAX/KK
ACE TO INDOOR RC.
66 TAIL END CHARLIE
THE THOUGHTS OF CHRIS OTTEWELL.