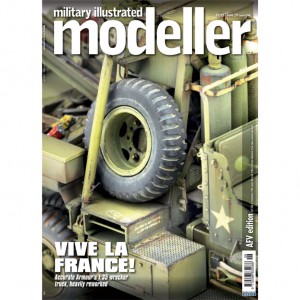 4 NEWS
Military modelling news
8 SITTIN' ON THE DOCK
OF THE BAY
Creating a 1:35 dockside diorama for the Italian Navy
MTSMA attack boat
18 ORDNANCE DEPOT
New and recent accessory sets and modelling
materials
20 REGIO ESERCITO LANCIA 3RO
The construction, detailing and painting of IBG's new
1:35 Lancia 3Ro truck
COVER STORY
28 VIVE LA FRANCE!
You threw away half of Accurate Armour's 1:35 M1A1
Ward LaFrance Heavy Wrecker?
40 MULTI-TURRETED MONSTER
Zvezda's new-tool 1:35 kit of the 1930s Soviet T-28,
previewed
42 MSTA OF THE UNIVERSE
Zvezda's 1:35 Russian self-propelled howitzer 'MSTA-S'
with some extra touches of detail
48 HEAVY WRECKING,
AMERICAN-STYLE
Zack Sex brings us a timely look at the M1A1 Wrecker
54 HUNTING PANTHER
Takom's new 1:35 Jagdpanther G1, previewed
56 WILD RHINO
AFV Club's 1:35 kit of the 'Nashorn', finished with
Mission Models paints
62 BOOK REVIEWS
Military modelling-related book reviews
66 SIGN OFF
A modern-day D-Day diorama?