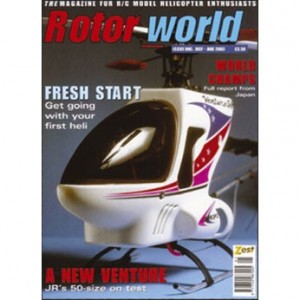 Reviews:
• Venture 50 – New canopy and a bigger engine for the JR sport heli favourite
• Hummingbird – Century Helicopters jump on the miniature indoor electric bandwagon
Features:
• Kavan Jet Ranger – A bit of nostalgia. Ken Gale walks us around an early classic
• Starting Out – Just getting into the Hobby? Follow our series on beginning to fly model helicopters
• Full-Size: Hughes 500 – Close up and personal with an example of the famous workhorse
• Spirit of Competition – One man's quest to take them all on in the 3D masters
• Paul Heckles – The man, the business, his flying, his philosophy
• Web Wandering – Can you really bag a bargain on the internet? We go window shopping
• QWW Helicopters – Just why should you consider buying QWW?
Events:
• World Championships 2003 – Straight from the horse's mouth, thanks to Mark Christy!
• Sandown 2003 – All the best photo action from the UK's premier trade event
Plus:Â News, events diary, and new products