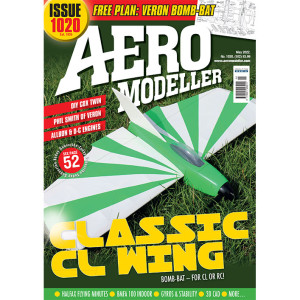 04 HEARD AT THE
HANGAR DOORS
EDITORIAL, NEWS AND VIEWS.
08 AEROPOST
READERS' LETTERS AND EMAILS.
09 UP & COMING
CALENDAR OF EVENTS.
10 POWER TRIP –
COX TWIN
MARIS DISLERS CONSTRUCTS AND TESTS A
GEARED TWIN CYLINDER GLOW ENGINE.
18 3D UPDATE
THE LATEST FROM BRIAN SPENCER ON USING
CAD FOR 3D PRINTING AND LASER CUTTING.
24 PHIL SMITH
THE EARLY AEROMODELLING LIFE OF PHIL SMITH
THE VERON DESIGNER.
28 FREE PLAN –
BOMB-BAT
PHIL SMITH'S DIESEL-POWERED CL WING IS
GIVEN A MODERN ELECTRIC RC TWIST BY MARK
DEANS.
40 ALLBON ENGINES
PART 2: ALAN ALLBON'S LATER LIFE WORKING
AT DAVIES-CHARLTON AND BEYOND. BY ADRIAN
DUNCAN.
46 MUSTANG IN MY
WORKSHOP
A GLOSSY NEW BOOK IS REVIEWED BY ANDREW
BODDINGTON.
48 BMFA 100 INDOOR
THE HIGH WYCOMBE INDOOR EXTRAVAGANZA
HAD SOMETHING FOR EVERYONE!
54 LOW WING STABILITY
SUPERCOOL CONTINUES HIS EXPERIMENTATIONS
WITH FF SCALE STABILITY.
60 FLYING MINUTES
ANDY HOPKINS DESCRIBES HIS BUILD OF A PREWAR
STREAMLINED WAKEFIELD.
66 TAIL END CHARLIE
THE THOUGHTS OF CHRIS OTTEWELL.