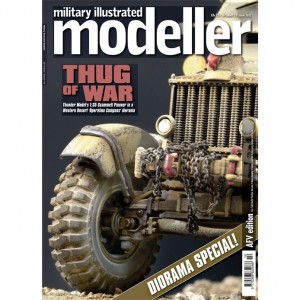 4 NEWS
Military modelling news
8 REMNANTS OF A NIGHTMARE
Rye Field Model's 1:35 Panther Ausf.G, deconstructed
22 ORDNANCE DEPOT
New and recent accessory sets and modelling materials
24 MIGHTY MICE: THE MAUS-HULLS
AT MEPPEN, 1945
Dragon's 1:35 Maus kit in an evocative dioramic scene
COVER STORY
32 THUG OF WAR
Thunder Model's 1:35 Scammell Pioneer and 7.2 inch
howitzer 'Operation Compass'
44 BATTLE OF NORMANDY
We meet again!
46 DINGO DELIVERS!
Revell 1:35 Dingo 2 GE A2.3 PatSi, previewed
48 CHIEFTAIN OF THE CLAN
Takom's superb 1:35 British Chieftain MBT in Mk.11 form
54 THE 'KRAFT DURCH FREUDE' CAR
Rye Field Model 1:35 German Staff Car Type 82e, previewed
56 SALADIN DAYS
Photo-references for the Alvis Saladin
62 BOOK REVIEWS
Military modelling-related book reviews
66 SIGN OFF
A Normandy Panther?