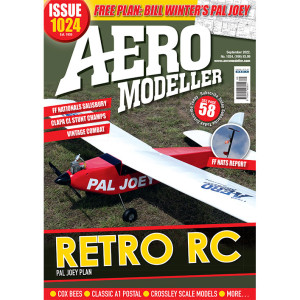 04 HEARD AT THE
HANGAR DOORS
EDITORIAL, NEWS AND VIEWS.
09 UP & COMING
CALENDAR OF EVENTS.
10 FF NATIONALS
THE SUBSTITUTE NATS AT SALISBURY PLAIN AREA 8
IS REPORTED ON BY MIKE WOODHOUSE.
20 POWER TRIP –
COX BEES
MARIS DISLERS TRIES TAMING THE UBIQUITOUS
REED VALVE 049 WITH A LARGER PROP.
25 BRODAK MUSEUM
THE LATE JOHN BRODAK'S COLLECTION OF CL/UC
ITEMS IS PUT ON DISPLAY.
26 VINTAGE COMBAT
MICK LEWIS REPORTS ON THE SBMAC ROUND OF
THE VINTAGE CALENDAR.
30 FREE PLAN –
PAL JOEY
BILL WINTER'S RUGGED SHOULDER WING RC MODEL
IS REVISITED AND ENLARGED BY JOHN PERIC.
42 FLYING GEMS
YOUR CHANCE TO OWN ONE OF RICHARD
CROSSLEY'S FLYING SCALE MASTERPIECES AS HE
MAKES SPACE FOR NEW MODELS.
48 CLAPA CHAMPS
STEVE WHITE REPORTS FROM THE CL AEROBATICS
JAMBOREE AT BUCKMINSTER.
54 BMFA CENTENARY
A STUNNING NEW EXHIBITION OF AEROMODELLING
HISTORY IS REVIEWED BY ANDREW BODDINGTON.
60 CLASSIC A1 POSTAL
STUART DARMON ON THE LAST AND NEXT CA1
GLIDER INTERNATIONAL POSTAL EVENTS.
62 UTTERLY BUTTERLY
MIKE WELCH SHARES HIS EXPERIENCE OF
CONVERTING A BUILT RC SCALE MODEL TO CL.
66 TAIL END CHARLIE
THE THOUGHTS OF CHRIS OTTEWELL.