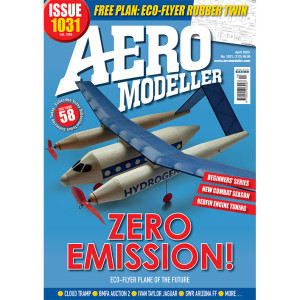 04 HEARD AT THE
HANGAR DOORS
EDITORIAL, NEWS AND VIEWS.
07 UP & COMING
CALENDAR OF EVENTS.
08 TUNING ENGINES
STAN PILGRIM DESCRIBES HOW HE MODIFIES
REDFIN DIESEL ENGINES.
14 SWR ARIZONA
CAN MIKE WOODHOUSE FIND SUNNY US WEATHER
CONDITIONS FOR FF COMPETITION FLYING?
20 IVAN'S JAGUAR
THE LATEST FF EDF SCALE JET BUILD
FROM IVAN TAYLOR.
24 EXHIBITIONS
WE LOOK BACK AT EARLIER MODEL AIRCRAFT
EXHIBITIONS NOW THAT COVID APPEARS TO HAVE
FINISHED THE LMEE.
28 FREE PLAN
ECO-FLYER
GARETH EVANS' SEMI-SCALE RUBBER POWERED
MODEL OF WHAT COULD BE THE FUTURE OF
HYDROGEN POWERED FLIGHT.
42 BMFA AUCTION 2
THE 2ND BMFA ENGINE AND KIT AUCTION WAS AN
ONLINE ONLY AFFAIR. NIGEL MONK REPORTS.
46 BEGINNERS' SERIES
PART 1: STUART MARSDEN STARTS WITH THE
SIMPLE ALL-SHEET CLOUD TRAMP.
53 AEROPOST
READERS' LETTERS AND EMAILS.
54 HOSPITALITY OF
MODELLERS
RICHARD EVANS' SALUTE TO THE FAMILY OF
AEROMODELLERS AROUND THE WORLD.
60 CL COMBAT
TIM HOBBINS LOOKS AT THE FORTHCOMING
VINTAGE, OLIVER AND RETRO COMBAT SEASON.
66 TAIL END CHARLIE
THE THOUGHTS OF CHRIS OTTEWELL.