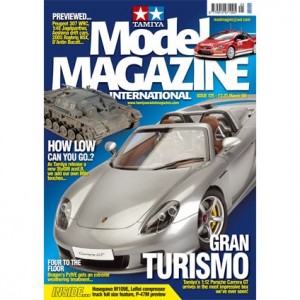 March 2006
Issue 125– published on 16th February 2006
» GRAN TURISMO – Tamiya's latest large scale collectors' model is the
astonishing Porsche Carrera GT, and what an amazing model it is… Got your cheque book ready?
» HOW LOW CAN YOU GO? – Tamiya prove that they are still committed to 1:35 by issuing a new kit of the StuGIII ausf.B. But is it any good?
» PEUGEOT 307 – A quick preview of Tamiya's newest 1:24 rally car, the Peugeot 307 WRC
» FOUR TO THE FLOOR – Dragon's sublime 1:35 PzIVE
» KIT PREVIEW – Tamiya 1:48 P-47M, 1:48 Jagdpanther
» RIVETING EXPERIENCE – Hasegawa's 1:48 Bf109E, all riveted up, with RJC artwork
» UNDER PRESSURE – Full size reference feature on the LeRoi US WW2 compressor truck
» KIT PREVIEW – Hasegawa 1:32 Junkers Ju87G-2 Stuka
» KIT PREVIEW – Aoshima 1:24 Drift Cars
» KIT PREVIEW – Tamiya 1:24 Raybrig NSX 2005, 1:12 D'antin
Pramac Ducati