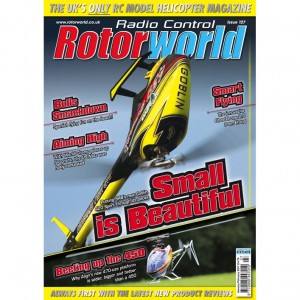 Jan 2017 Published 1st Dec
Reviews
10 Align T-Rex 470LM
The new 470LM is the latest T-Rex release from Align and features a newly designed belt-drive system and rotor head design without the DFC system. The updated landing gear gives the heli a 5-degree
forward tilt, whilst there is a RCE-BL50X speed control and the latest high voltage servos, all of which makes the 470LM Dominator package an excellent choice.
22 SAB Goblin 420 Sport COVER FEATURE
The 420 Sport is a new model in the SAB's Goblin's line-up that retains the look of the stunning Black Thunder model. Adopting a carbon fibre frame similar to that of the 380, you get Thunderbolt blades, speed body and fuselage to make for a compact and very capable performer.
42 Ooznest C-Beam CNC Router
If you fancy making your own parts and a 3D printer doesn't cut it, then a CNC router is the way to go. Shaun Garrity builds up the Ooznest C-Beam and gets cutting!
50 Ehang GhostDrone 2.0
Claiming to be the "Easiest-to-fl y drone in the world" Ehang's well-established GhostDrone 2.0 requires just an Android or iOS device and a small G-Box to fl y. With some great built in features such
as Waypoint Mode, Companion Mode, Avatar Mode, and Flight Planning Mode available with a single tap on the screen, we just had to give this a go.
60 VelociDrone Simulator
Jamie Cole, father of junior European Champion son Aaron put this inexpensive but very complete
dedicated drone racing simulator to the test to see if it will help him improve his flying skills.
Features
28 Bulls Smackdown
Taking place at the end of the season in Spain, the Bulls Smackdown is the perfect event to round off a great year in the late summer sun on the beach. Attracting many of the top pilots from Europe, organiser Dave Dijkmans puts on a great show in a lovely location.
33 Align T-Rex 150X
Ahead of a full review in the following issue, we take a quick look at Align's new little T-Rex, the 150X.