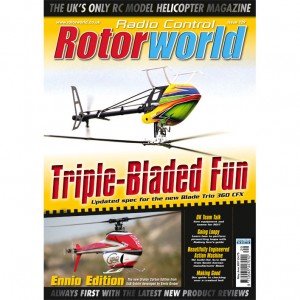 Reviews
10 Blade Trio 360 CFX
We test the three-blade crowned cousin of the popular 360 CFX
that aims to provide exceptional out-of-the-box responsiveness,
unmatched power and carbon fi bre rigidity.
24 Beam Acro 480
Matthew Gauci from Malta gets his hands on the new 4.8 Acro
from South Korean manufacturer Beam RC that follows on from the
success of the E6 Avantgarde, E4 SE and the E5 Archon.
36 SAB Goblin Urukay Carbon
Ennio Graber Edition
The new Urukay was developed for F3C use whilst also allowing the
capability for the pilot to also fly 3D. In the first of a two-part feature
that will see an interview with Ennio Graber in issue 130 we build and
put the heli to the test.
Features
20 Southern Scale Challenge
This event has the title of being one of the world's biggest scale
events. Based at Dalton, Alabama in North America, Tim DiPeri
reports back from the weeklong event.
30 Crash Repair
Rodney Kee looks at the best way to check over a heli after a crash
including his tips on things to look out for and when parts should be
replaced during the rebuild even if they aren't broken…
42 Blowing Off the Cobwebs
In part four of the series we will take a look at pirouetting loops.
In order to do these successfully you must be able to do loops
forwards, backwards, tail and nose in, so we will start by walking
through these variations.
46 Team Talk
With the 2017 season upon us we take a look at last year and what
to expect over the coming year in what could be a very interesting
turning point for the 3D style of RC heli flight.
52 Nuremberg Toy Fair
It's always great to see the new products on offer at the annual show
in Germany and we found plenty of new parts and components as
we trawled hall 7A in early February.
Regulars
04 Word of Mouth
Once RC gets into your blood, it never leaves!
08 Straight Up
The latest news and information from the world of RC model
helicopters.
Plus more regulars!